Elimination diet... Belly Full of Good Food.
If you suffer from any kind of intestinal illness you know that everything to do with food can become really difficult; it is not easy to socialise around food when you have IBD and you always have to plan ahead. So for me food has for a long time now not been much fun but more of a necessity. I've often wondered whether diet had a direct impact on health, however when I would ask the doctors they would never relate food with IBD and so never recommended diet as part of a treatment.. maybe that's why it took me so long to properly try and change my diet.
Now I have started investigating it is even more confusing as there are so many conflicting books and stories; when I started investigating with Amy we found 'the Elimination Diet' which seemed to make sense, but we were allowed to eat Quinoa, Wild and Jasmin Rice and Chia, all of which according to the Paleo Principles and the Paleo approach (the Paleo version of the elimination diet), are a big NO. I also bought the 'Food intolerance bible' after seeing the nutritionist who wrote it and there it said broccoli and other items were on a list of allergens, which I was allowed to eat on the Elimination Diet. Then I saw a book 'Fix your belly blues program' written by a person who had cured his IBD - but that was close to an Ayurvedic diet, which is yet another route to take... and there are thousands more books out there.
As you can see it confusing at best and frustrating at worst; especially as the choice I made to go with the Elimination Diet which at the end of January was proving to be difficult for my body. Everything had started to ache (regardless of what I ate) which is a sign of a flare-up and most likely because of the sheer volume of vegetables and fruit I had to eat to get my calories. I appreciate that every body is different, every illness manifests itself differently and that therefor there will be different solutions and I desperately want to understand the how's and why's. So I decided to stop the Elimination diet and follow the general Paleo AIP guidelines; and use the 'The autoimmune paleo cookbook'. I am still convinced that somehow it is possible to find the diet I need, by eliminating and closely listening to my body.
The one absolutely amazing thing which happened when I started the diet was completely unexpected; it directly impacted the feeling of stress in my body. For the last few years I could feel stress in my body, deep within my stomach around my solar plexus. I could physically feel that stress when I was under pressure but I could also sense stress in other people. The yoga and meditation helped alleviate that stress a lot, however there was a lingering sense of 'nervous stomach' which was there most days. Within days of starting the diet that last bit of stress has completely disappeared... now I have a sense of calm in my stomach. I was absolutely amazed by that change; food had a direct impact on the feeling of stress in my body. Which particular food(s) it was I don't know as I eliminated so many... but I am determined to never eat the stress-inducing food(s) ever again!
Below is the account of my 3 months of trying elimination and Paleo auto-immune diet which I followed at the start of 2018
- Thursday 4th January 2018.
For some time now, I've been thinking that I ought to do a proper investigation into what triggers my auto-immune reaction. I am convinced that food is a big piece of the puzzle into the mystery that causes these auto-immune reactions (as is stress and potentially genetics) and the best way to find out what food intolerances you have is to do an elimination diet.
It basically means that for about 30 days I will cut out a lot of food groups which are known to cause issues (diary and eggs, gluten, grains, soy, citrus fruit, red meats and shell fish, corn, most nuts, caffeine, alcohol, sugar, etc.) and then slowly reintroduce and log the reactions in my body. It's a lengthy process, which will require a lot of stamina and will be difficult at times (especially with those early office starts in winter, without a coffee!).
However my lovely colleague Amy has decided she will join me and together we've been getting enthusiastic about what we can eat (as opposed to getting depressed over what we can't). We thought it would be good to log our experiences and document the diet from our very different perspectives.
Preparation
The main rules we are sticking to are the lists in the the Elimination diet book. It is a shorter version not specifically focussed on autoimmune illnesses but more for generic food sensitivities/intolerances. This book describes a shorter phase 2 (14 days) but we try to do it for 30 days as per AutoImmune Protocol (AIP) books which are focussed on people with autoimmune illnesses.
I order to make fresh chicken stock -which I love and I know works magic for my stomach- I just bought a pressure cooker (click here for link). Used it for the first time last night to steam my broccoli to perfection in 2 minutes - brilliant!
Paleo AIP Diet
Even though we discovered information on the Elimination diet first, when I looked further I found the Paleo Approach (and Autoimmune Protocol version of the elimination diet). After 3 weeks on the elimination diet I switched to Paleo AIP. In the book, I found explanations on what causes autoimmune illnesses, our modern western diet issues, and has lots of food facts (nutrients, how food reacts in the body). Luckily both diets have a similar concept (just slightly different food restrictions) and it is all about figuring out what works for you .
More information on: https://www.thepaleomom.com/start-here/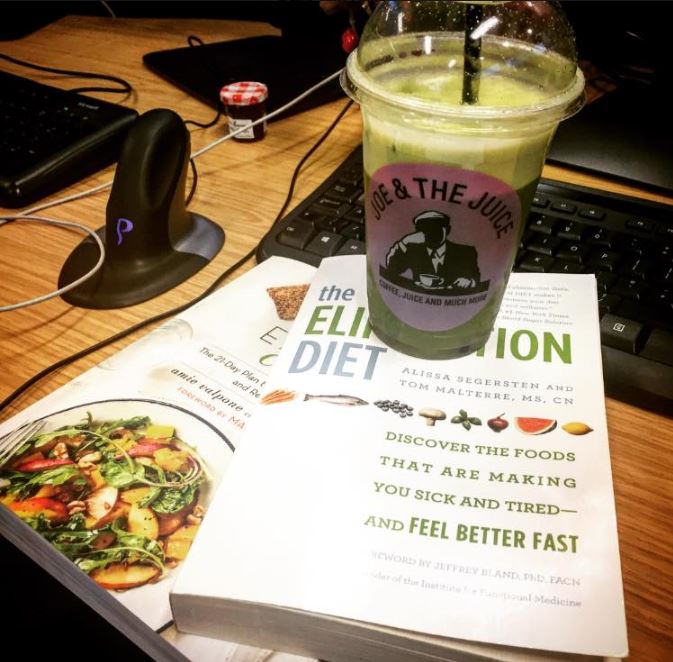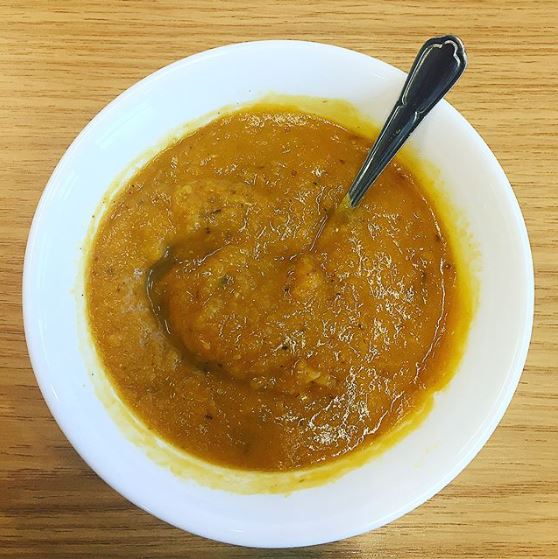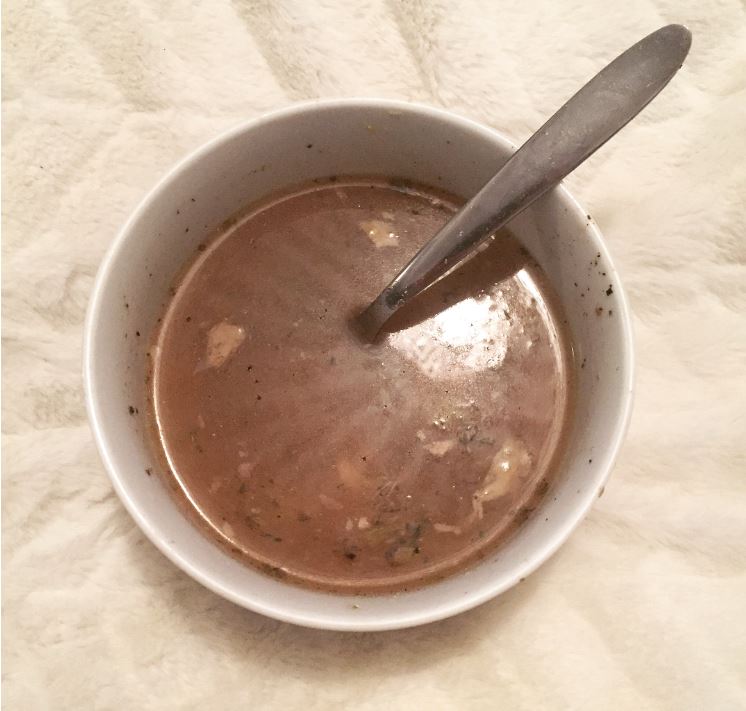 Thursday 4 January 2018
Breakfast: For breakfast we are enjoying two lovely juices from Joe & the juice; Amy has a 'Green Shield' (cucumber, kale, broccoli, spinach, apple) and is feeling focussed and perked up. I have a 'Heartbeet' (beetroot, avocado, banana, pineapple, apple) which is filling and delicious.
Lunch: Amy had some lovely homemade Butternut squash and pear soup while I attempted to make the Detox sweet-potato, broccoli, ginger soup (I did such a bad job - check out my picture compared to the recipe!)
Dinner: I tried to salvage my Detox soup (as I had made a big batch) by roasting two sweet potatoes in the oven then putting them in the soup maker with some of the soup - the structure and taste both improved a lot! Amy had her home-made chicken broth.
During the day we drank a lot of tea. Dr Stuart's Detox tea; caffeine free and packed with pure, natural flavours, Dr Stuart's Detox tea contains dandelion and burdock, sage, ginger, peppermint and spearmint. Also enjoyed Yogi tea Rooibos.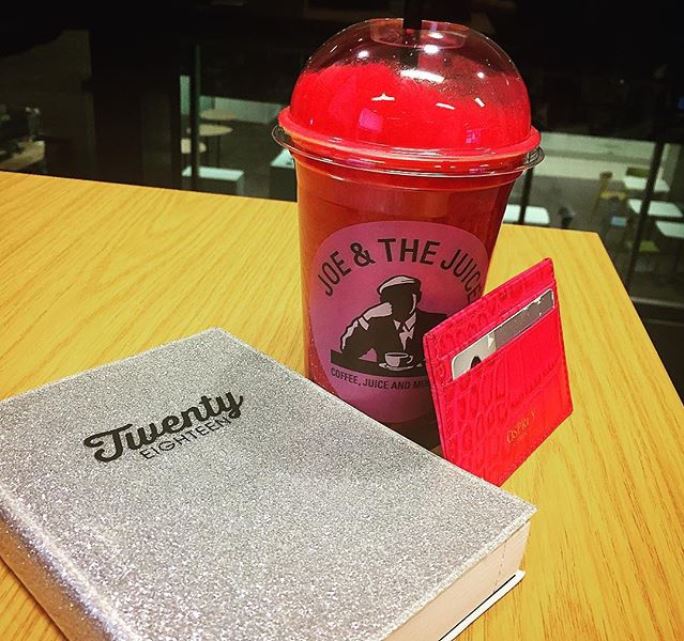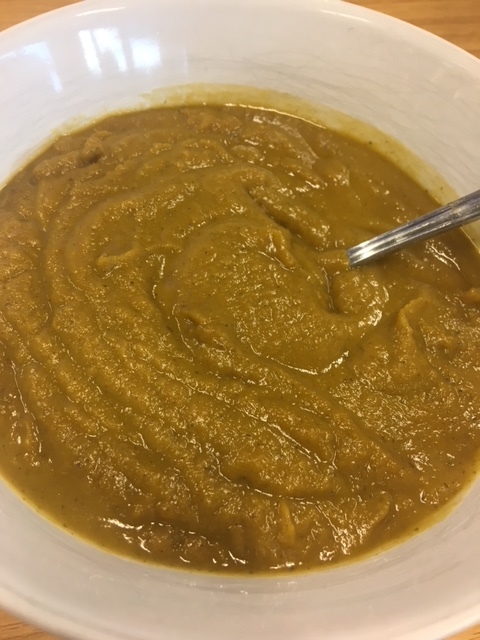 Friday 5 January 2018
We were both in good spirits this morning coming in at 6am - feeling rested and no need for a coffee, we had Detox tea instead.
Breakfast: We went back to Joe & the juice for some more 'Heartbeets' (beetroot, avocado, banana, pineapple, apple) - check those colours!
We were both feeling well during the morning but drank lots of tea and were counting the minutes until (early) lunch.
Lunch: Amy had some lovely homemade Cauliflower soup; to make, simply roast a whole cauliflower (cut into quarter florets) with some garlic and drizzle with olive oil. Once roasted transfer to a pan with boiling water and blend into soup. I had yesterday's Detox soup, which I updated last night adding 2 roasted sweet potatoes.
Neither of us can wait until tomorrow, to actually eat vegetables and fish or chicken... solid food! Amy is dreaming about brussels sprout roasted crisps and other roasted veg...... not long now!
Dinner: After my yoga class I had some more sweet potato soup and I also had a smoothie with apple, avocado, banana and coconut water. Then I was ready for a salt bath and an early night.
Saturday 6- Friday 12 January 2018
My week:
Overall the actual elimination of food has been easier than I expected. I don't miss sugar, caffeine or chocolate not nearly as much as I thought; I find starting the days with tea easy, and if I fancy a sweet I'll eat a date, but I don't seem to fancy many in a day.
Much harder than I ever anticipated was the organising and cooking (and washing up). My weekends seem incredibly short, as I have so many extra chores centred around food. There appears to be very little I can just buy in a store, even everything I deemed healthy before has something of the No list in it, apart from fruit and veg. Trying to not continuously eat the same thing (which is also bad) I need to research, organise and try. Not being a great cook doesn't help things either; I've messed up some perfectly fine ingredients, by overcooking or mixing with the wrong stuff. But I am learning and I'm sure it will get easier.
I have noticed a big change in my body and also my mind, which I hadn't expected so quickly; I feel lighter, more agile, more Zen (hardly any stress left in my stomach), and my intestines seem to be getting better too. I sleep deeper and am calmer. The one time I accidentally ate cane sugar in some coconut chips I tasted it immediately and felt the blood rushing through my veins.
Even though it is going really well and I'm definitely planning to stick to the diet, it is hard work and costs a lot of time. However I'm starting to like cooking, and want to experiment. As it is important to vary the diet (and I'm such a stickler for just eating the same thing all the time) I'll have to break that habit. Then I will just try out combinations.. I have fresh mango in the fridge and some chicken fillet; can I maybe concoct something with coconut and some herbs? Will keep you posted....
Food highlights; Apple, cinnamon and date stew (delicious hot or cold) + Chia, coconut milk and berry smoothie + sweet potato roast with chicken
Amy's week:
Friday night; wild salmon & sweet potatoes, stewed pears.
Sat- Avocado, banana, coconut milk and spinach smoothie, coconut water & fruits (melons, grapes), steamed veg and chicken.
Sunday- Healthy roast – chicken from the pressure cooker, roasted cauliflower, roasted sweet potatoes.
Week 1 of the Elimination plan has gone by quickly, I've learnt by cutting out all processed food/meats, I feel I have more energy. On Saturday, after a whole week of the plan, I was able to run 7 miles easily. I've got my go-to recipes that I always fall back on and make sure I have in the house (chicken bone broth/stewed fruits-pears/apples/sweet potatoes). I find my cupboard has been completely replaced with healthy fruits and clean veg in the fridge. But also, I've noticed changes in my sleeping pattern- for once- I drift off easily. Maybe it's the complete withdrawal of caffeine.. who knows. My recipes have been varied to keep me engaged in the plan, with wild salmon, hearty soups and health roast dinners. And whilst at work- there's a Joe & the Juice nearby- very handy.
The first few days of the plan, I struggled with the sugar, I've got a sweet tooth and giving up sweets is the hardest part of the whole thing. But if you find the right substitutes in line with the plan, it's better! Stewed apples and pears have been an eye-opener. Boiling pears in some water, lightly spiced with cloves and cinnamon for 20 mins on low heat- ahhh divine! I haven't touched any sugary sweets at all, so I'm impressed by my willpower here. I do find, going out possibly the hardest thing to do whilst on the plan. Tip- always look at the menu before and see how you can order. I went to meet a friend and we ended up chatting over coconut water lol.
Go-To Recipe:
Roasted sweet potatoes- chop sweet potatoes, drizzle with extra virgin olive oil, garlic and salt. Roast in the oven for 20-30 mins.
For the week ahead, I'm looking into new recipes…maybe beetroot dips, new soup ideas- cauliflower steak? Will keep you posted...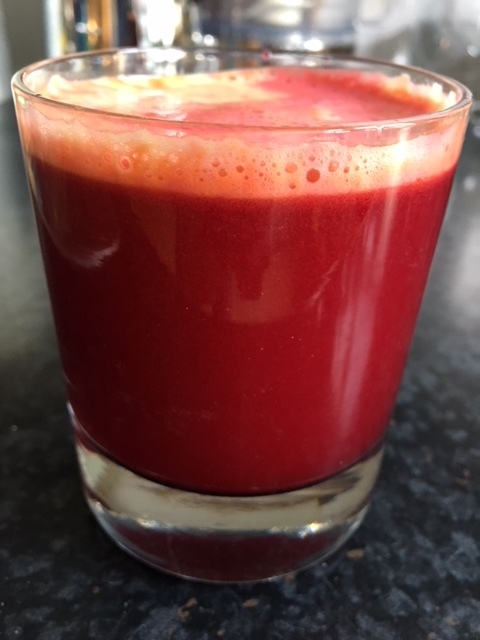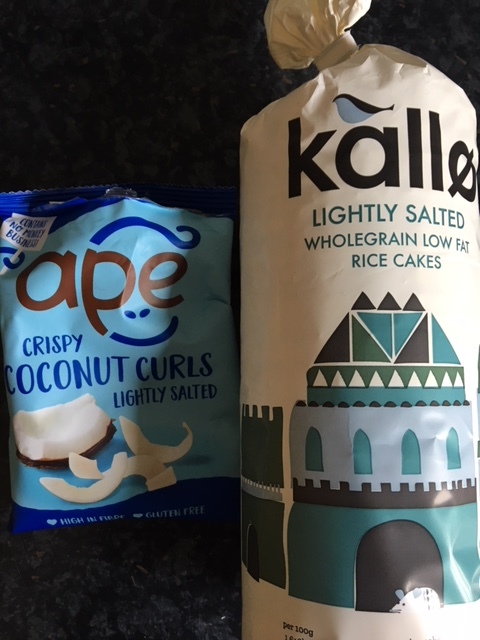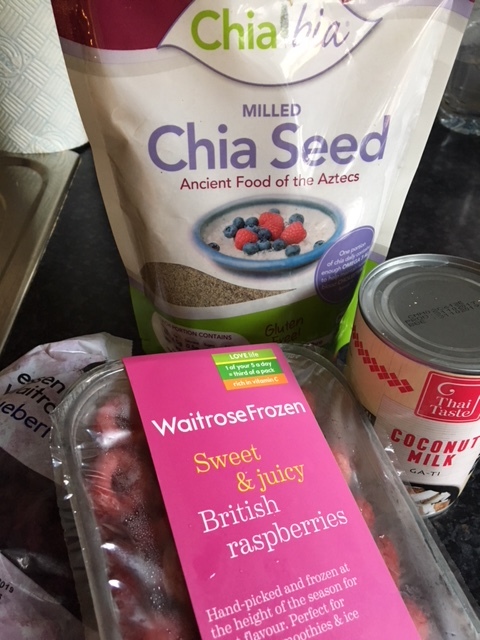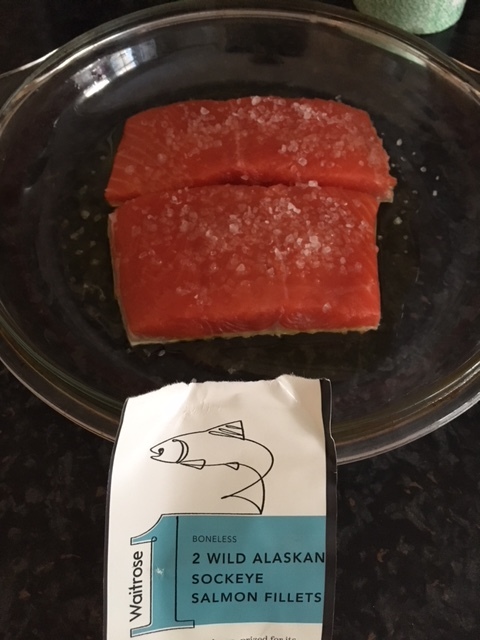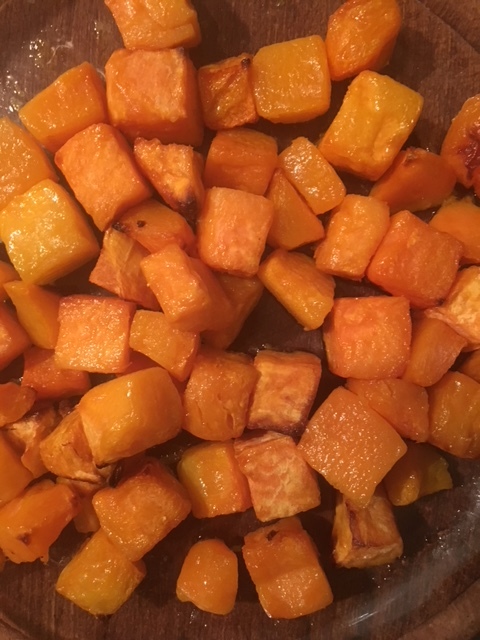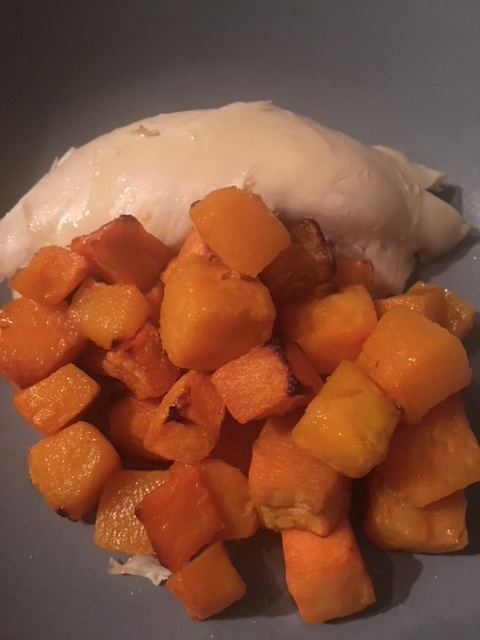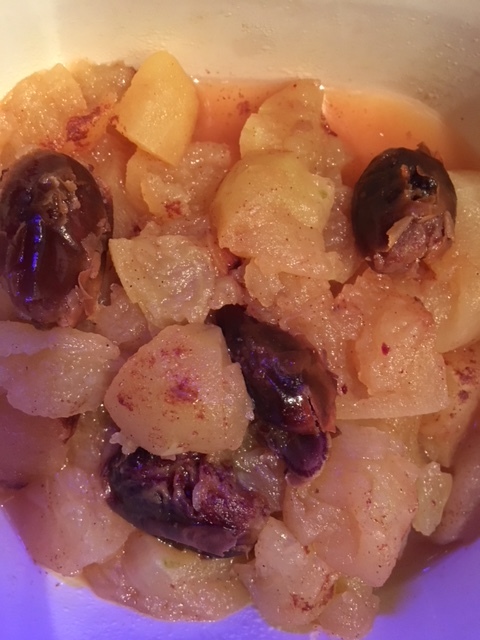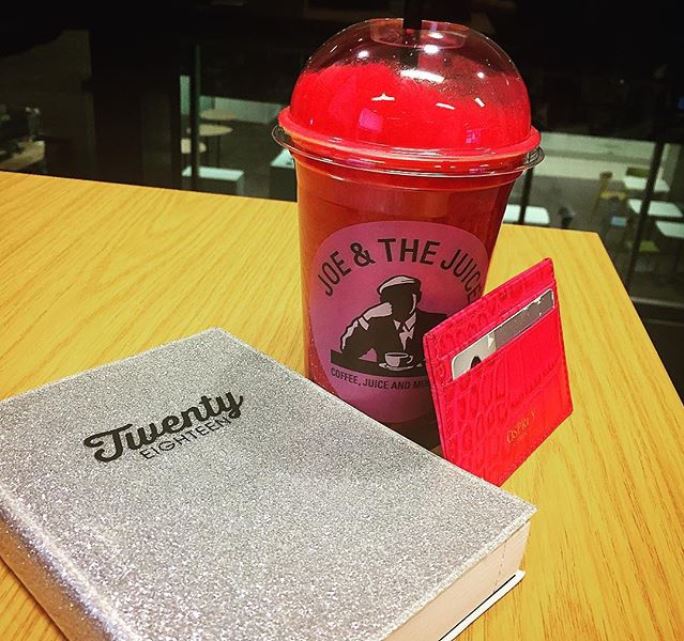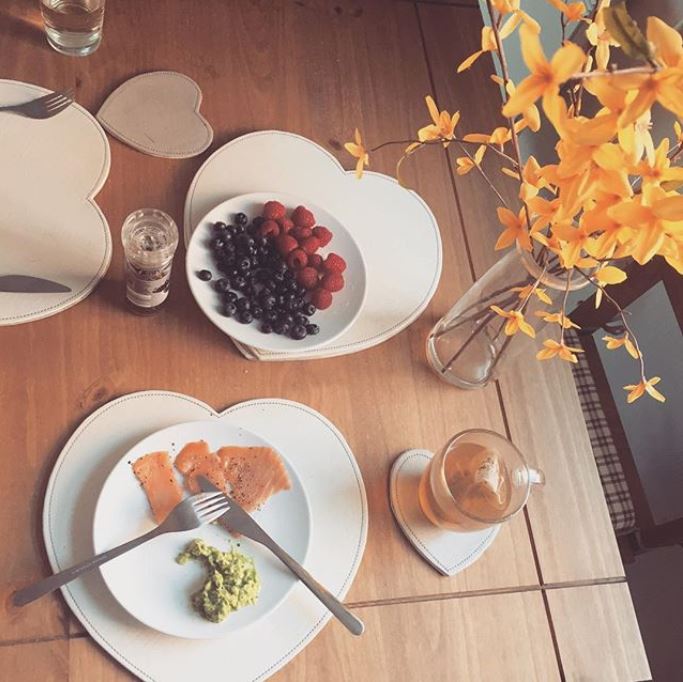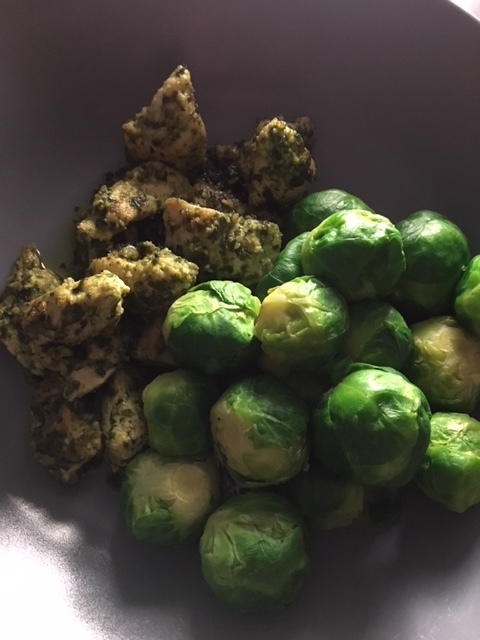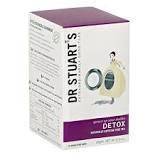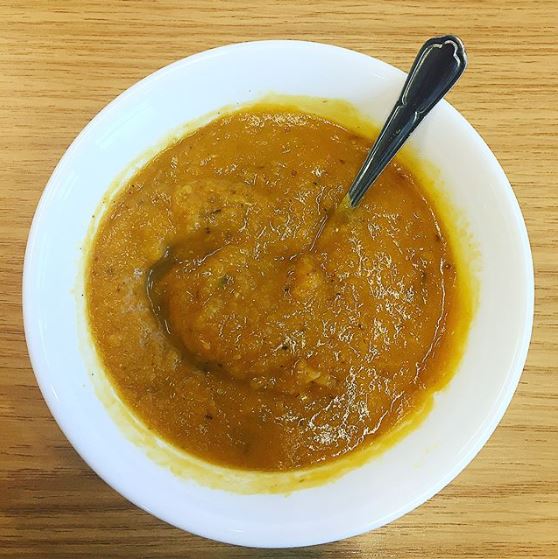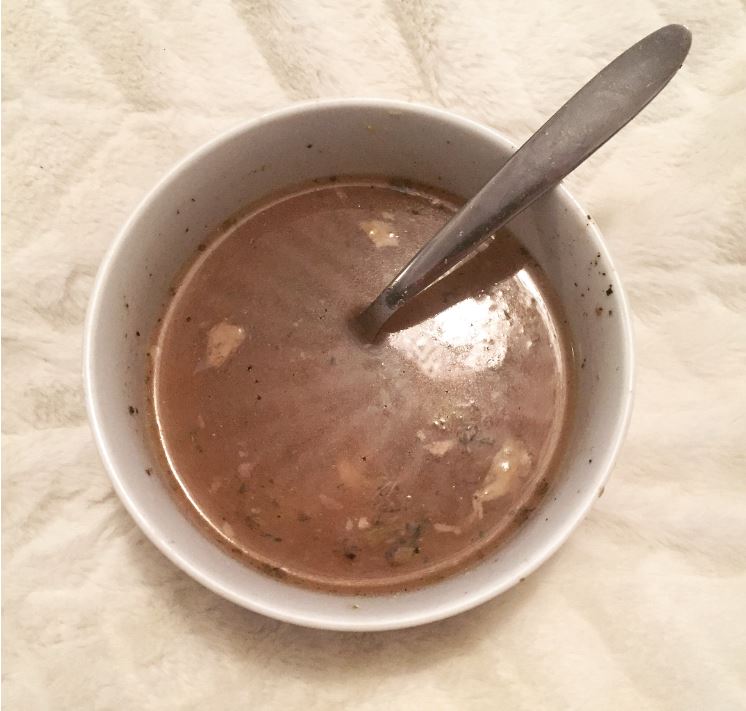 Saturday 13- Friday 19 January 2018
My week:
After being amazed by the easy and effect of week 1, I found week 2 much more difficult; it started with being extremely tired on Sunday. A tiredness that stayed with me throughout the entire week which made the relentless preparing and cooking of food not much fun. It might not be the diet though as I did have my 8-weekly infliximab infusion at the hospital and when I got my blood results, I discovered I was anaemic again which would explain that extreme tiredness.
on a positive note, the calmness that had started in week 1 has continued; work can get pretty stressful and I can still get agitated and frustrated, but it doesn't seem to reach my stomach anymore. I used to feel that stress eating at me in the pit of my stomach when I would get stressed (usually at work) and I could even sense it when others were stressed and feel it. And that has gone completely. I seem to be more forgiving, less judgemental and perhaps more kind. I sincerely hope this trend continues and never leaves me!
The tiredness did effect my enthusiasm for the diet, everything was such an effort and I just wanted things to be easy. Still I tried new things in order to not keep eating the same things; I tried chicken liver with spinach and garlic which was tasty, also attempted cauliflower rice and was inventive (and desperate) to make sauce from my leftover sweet potato soup. I added chicken and cauliflower and it all became rather tasty. I also attempted roasted nectarine, which looked beautiful before entering the oven.. but not so much after. I salvaged what was left and added to my apple stew. The idea was good though and I will try to roast/stew more. Also got a new blender which makes things a lot easier again!
Food highlights: butternut squash and sweet potato sauce, homemade hummus with black olives, wild sockeye salmon. I also seem to be using ginger, garlic and fresh herbs for flavouring pretty much everything
Amy's week:
TWO WEEKS & MORE!!!!
This week: munching on wholegrain brown rice cakes, chicken broths, fruits (bananas & apples), COCONUT CURLS (!!!) then salad/soups for dinner.
I try to prepare the food as much as I can the night before- but it's quite easy to forget in the mornings lol. This week, Maud's coconut curls have been delicious, our ten pack will keep me stockpiled for the week ;) great munching healthy snack. I notice I'm not bloating so much after food, and feel I'm digesting things easier. No flare ups (touch wood) but I'm looking forward to the reintroduction phase. Still surprised no coffee/Starbucks has been had…not craving sugary chai latte, but rather my camomile teas!
Special recipe: I made a cauliflower steak with roast veggies and salad- easy enough to prepare- get a whole cauliflower and cut off a section like you would steaks. Try to ensure its all held together by the stem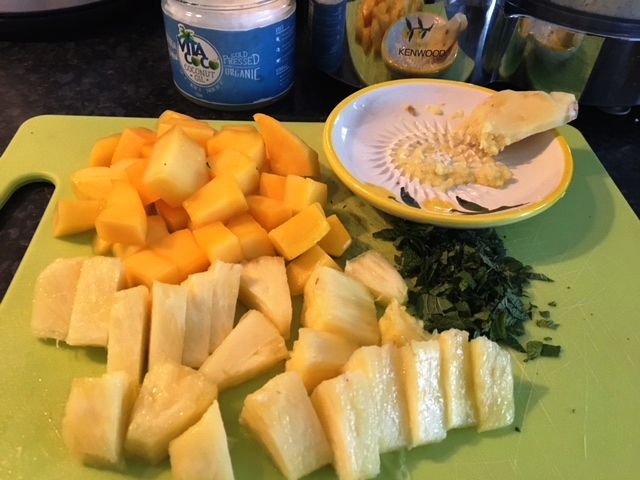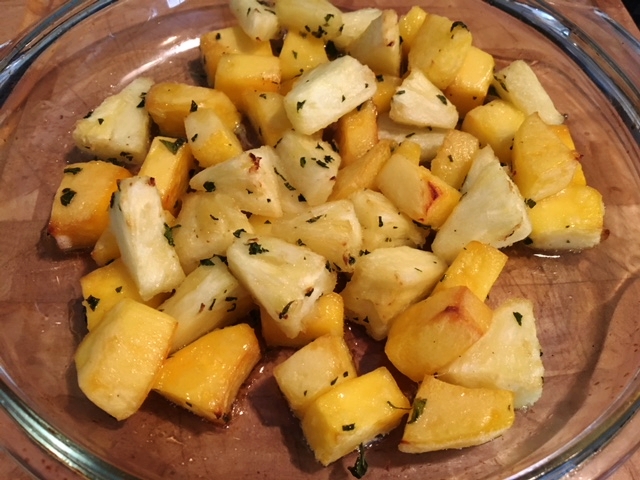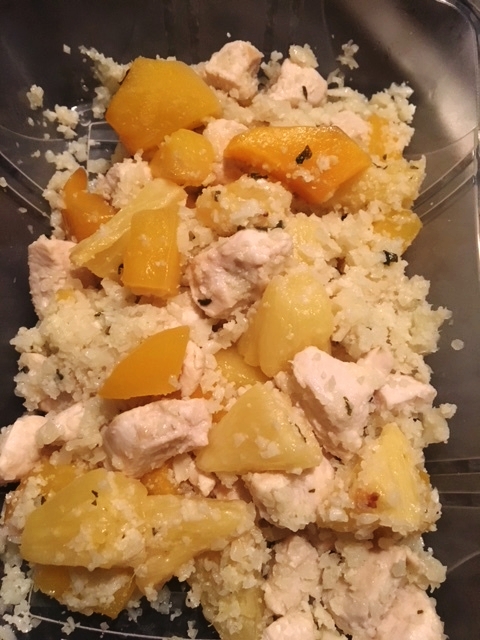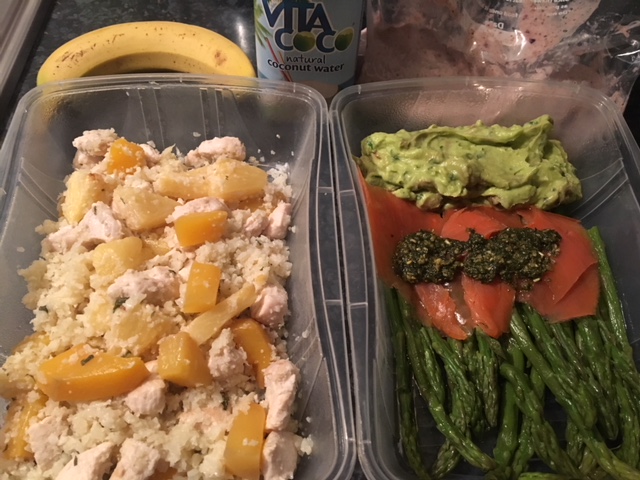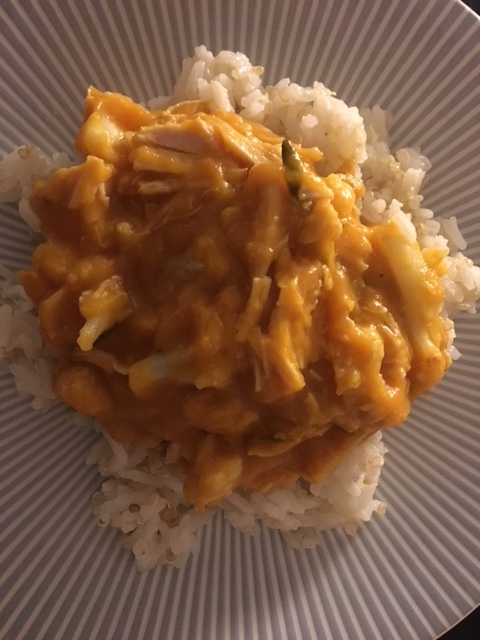 Saturday 20- Friday 26 January 2018
My week:
I have been feeling super tired, but it's the lack of iron in my blood, so I am trying to get an infusion. I experimented and did a lot of shopping online, feel I am slowly getting more familiar with cooking, so it is becoming easier. I also have decided to switch to Paleo Approach which is very similar but also cuts out all grains, so I'm going to try and eat no more Jasmine rice, Quinoa, Chia or chickpeas.... and I have given away all my rice, rice-cakes, etc.
My stomach has been playing up A LOT - I am wondering if I am starting to get a proper flare-up. It is all a bit disheartening that I am doing this strict diet to try and heal myself but my body is not happy about it. On Monday I had to work from home due to bad cramps which kept me up all of Sunday night (was it the broccoli or dried fruit?), on Wednesday I had to cancel my yoga class due to more cramps and on Friday lunchtime the pain was severe after eating my stewed pears. I don't think that it's one particular item which I can't eat, but the sheer volume of fruit and vegetables I need to eat on this diet. My body has been on a low-residue diet (nothing fibrous, instead white bread, white rice, very few vegetables) for such a long time, it is finding the change challenging. Also, I've had IBD for over 15 years now and my intestines are scarred and not functioning properly, I wonder if too much damage has been done for it too reverse?
I will keep trying though, but I think I won' be able to start reintroduce foods at the end of next week as I need a calm stomach first. I am going to switch to Paleo AIP though which is more specific for illnesses.
Special recipe: red cabbage and apple (old Dutch recipe: 'rode kool en appeltjes'). Slice a red cabbage and put it in a pan with a cup of water, chop 4 apples and coat them with cinnamon. Add to the red cabbage and add 2 bay leaves, some cloves, some apple cider vinegar and a little sugar.
Amy's week:
The more time spent on the Elimination plan, the more time you're cooking and preparing meals. I don't think I've ever been in the kitchen this much. As much as I have been trialling wholesome soups, rice cakes and green smoothies, sometimes you do want to reach for an easy meal with no fuss (but we don't have that long to go left!).
With more energy, I've been doing more runs and Barry's Bootcamp sessions- I feel at least I'm putting it to good use then. At the weekend, I made Winter Squash soup, as well as a beetroot, pomegranate, kale & rocket salad. Visiting family can be hard as I don't really like declining food when offered….We had a roast dinner (Chicken & roasted veg) but I'm not going to lie- I had the gravy on top of my chicken. I don't know what's in gravy, but I presume there will be stuff not allowed from the Elimination Diet....
Recipe tip: My new recipe this week was to roast onions, beetroot and 'curried' Butternut squash. I say 'curried'- I added Cumin and Coriander together and drizzled the mixture with Coconut balsamic vinegar- which is by far the bessst tasting sauce I've had on this whole plan! Maud recommended it and I totally agree- the taste is incredible!!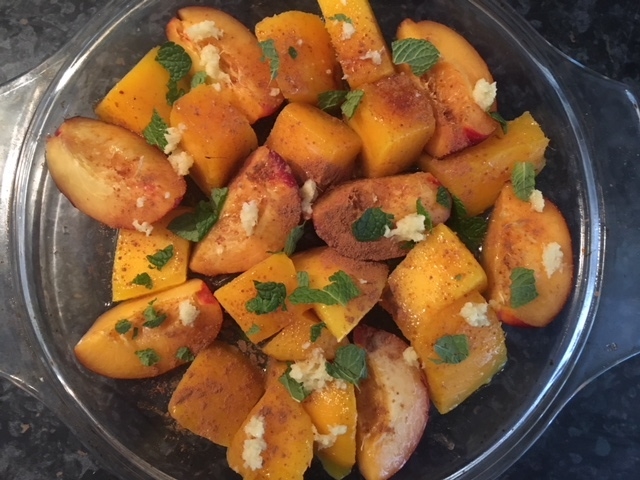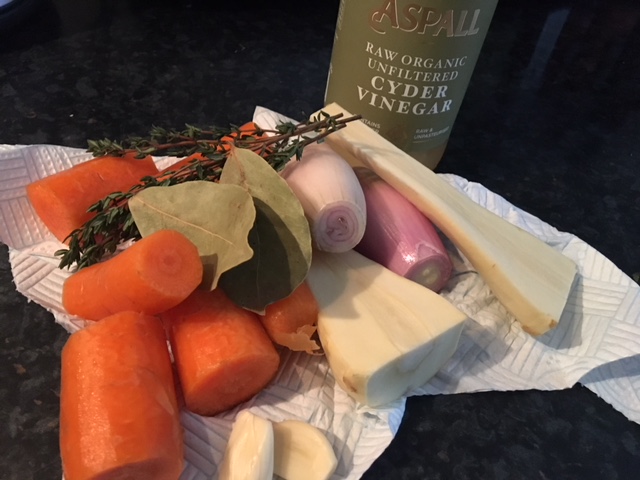 Saturday 27- Friday 2 February 2018
My week:
I started paging through the autoimmune paleo cookbook, which also has the differentiation between Paleo diet and the elimination phase, and I want to start trying to follow this book starting this week. Hopefully that will settle my stomach...
It's mid-week, and I have been feeling really rough so had a lot of early nights and switched to smoothies and soup for a bit I craved something other than vegetables or fruit, so I baked a banana bread - beautiful! I also made a cauliflower stew with sweet potato, chicken and coconut milk with turmeric. Good for the stomach, so far no protest .
After swapping back to liquid food my stomach settled down a lot - I still have this extreme tiredness but have now been booked in for an iron infusion next week. By Wednesday I started cooking again; another banana bread (always a winner) and I made garlic-sage chicken patties in the oven; they taste delicious and again an easy recipe.My stomach then settled down a lot as I ate fewer vegetables and could introduce things like bacon and prawns.
Garlic-sage chicken patties: this tastes amazing and is an easy recipe. The only thing was that chicken mince was difficult to find. Luckily my local butcher's could make it for me.
Chop and fry one small onion in some coconut oil. Then crush 4 cloves of garlic and chop sage (so you have 3 tablespoons worth) and put both with the onion. Let that mixture cool. Then add a table spoon of coconut flour to the chicken mince (500 grams). Mix in the onion mixture and then make 8 patties which you dredge through some coconut flour. You can fry or bake in the oven (drizzle some garlic olive oil over them) 25 minutes at 200 degrees Celsius.
Amy's week:
Over the week, I felt I had been eating way too much chicken and decided to again look at the Elimination Plan and find something different to eat. I went for an M&S good quality tuna (steak!). I cooked this with ginger and coconut balsamic vinegar along with a rocket salad and sweet potato chunks. Very filling and moreish, was such a treat and will definitely cook again. I'm starting to eat more salad style dishes as it's easier to prepare/grab, rather than prepare a soup the night before. Soups- Chicken stock (staple), Thai style chicken (with lemongrass, basil, coriander) (https://wholenewmom.com/recipes/thai-chicken-soup-low-carb-soup/ - excluded the lemon/fish sauce etc) and pea and mint soup.
Reintroduction
First food to reintroduce was egg yolks! Dan was definitely looking at me weirdly whilst I did this, but he ate the egg whites, whilst I attempted the egg yolks (I ate two as I didn't eat them again that day). I had this with some salmon in the morning and delicious. Even better there was no reaction, which is great as I now know, I'm not allergic to egg yolks..I'm already planning my next reintroduction which will be green beans (will make another soup with these additions for the pea & mint soup)
Pea & Mint Soup – chop up onion and cook some frozen peas. Add roughly chopped mint and blend in a blender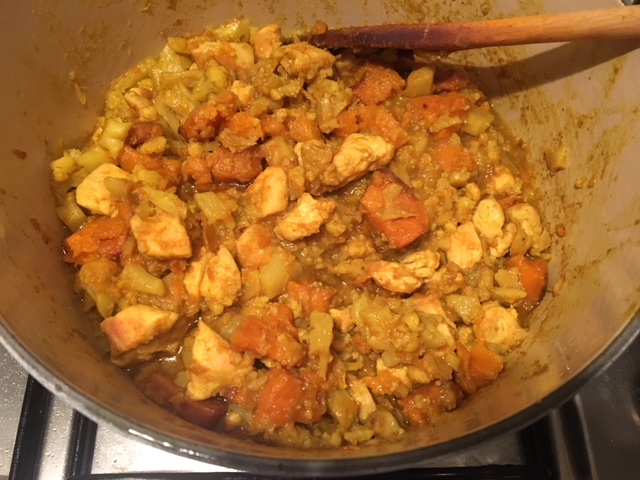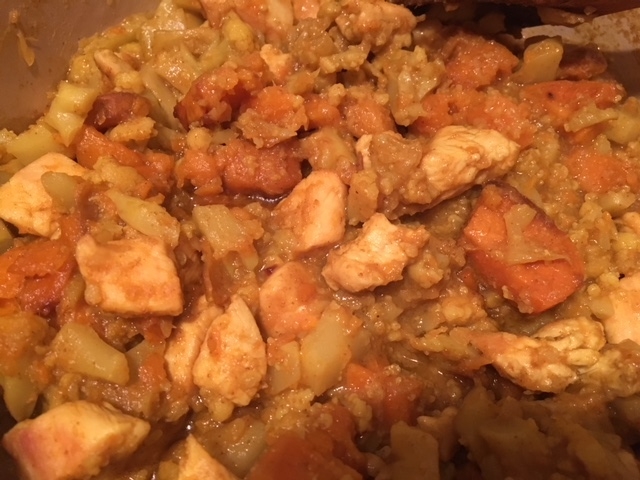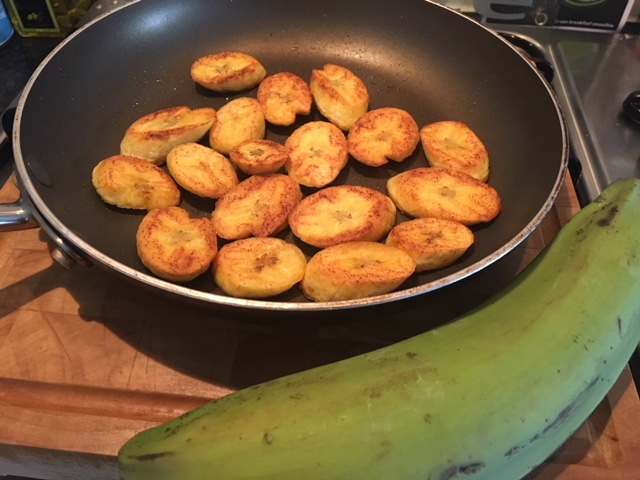 Saturday 3- Friday 9 February 2018
My week:
This week was again tricky even though I had switched to the Paleo AIP protocol meaning more meat and shellfood in my diet. I was just still needing to eat so many vegetables my body was protesting; having flare-ups and multiple infections. I did have a liquid-only day at the start of the week settling things down a bit. On Tuesday I had iron at the hospital which did boost my energy levels slightly but not as much as I had hoped.
On Wednesday I did start to feel better but somewhere I picked up a 24-hour bug making me feel nauseous and my belly feel very fragile. So again quite frustrating as it meant working from home and having to cancel the event I had booked that evening to see Jo Marchant talking about the mind body connection. By Friday I had decided I needed to alter my diet again...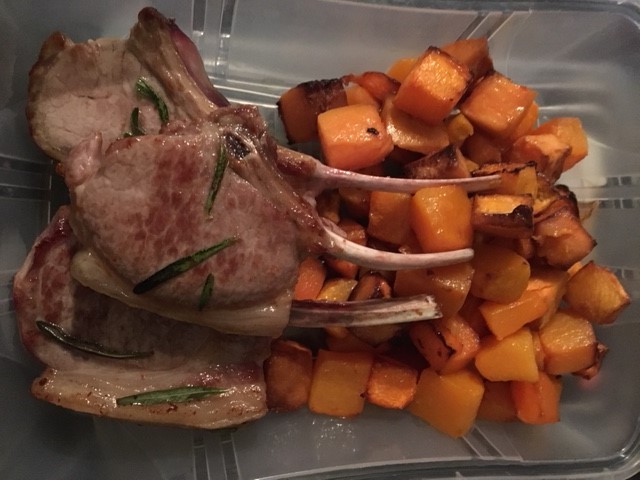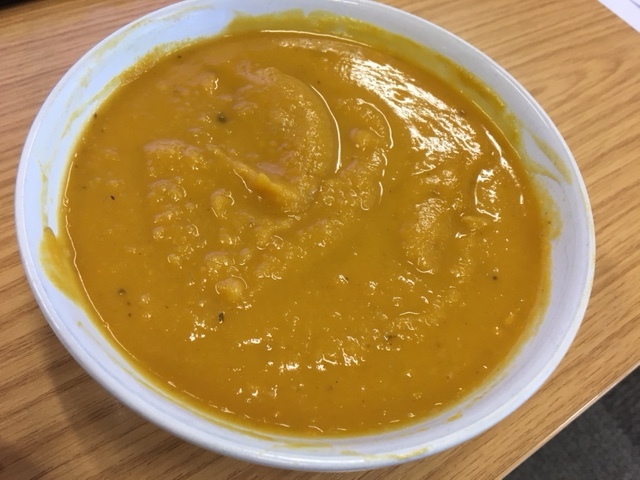 Saturday 10- Friday 16 February 2018
My week:
I'm planning to introduce a few Paleo ingredients this week - Paleo AIP is an elimination version of Paleo specifically for people with autoimmune illnesses. However, as I'm not able to settle my symptoms with the Paleo AIP purely due to the sheer volume of vegetables (which gut affected with Crohn's and my absent large intestine cannot seem to digest well), I'm planning to introduce a few items which will hopefully give me more energy and let me gain some weight. Number 1: Eggs. Introducing this nutrient rich food will allow me to bake more and create a lot more recipes which are filling. So I started Saturday morning with a beautiful soft-boiled egg, bacon and avocado. Bliss!
Mid-week I introduced dark chocolate as I was baking cookies. An easy recipe with almond flour, coconut flour, coconut sugar, an egg, coconut oil and vanilla essence. It made gloriously gooey cookies - the recipe is here.
Super easy broccoli soup: sauté a small yellow onion with some garlic in some virgin olive and some avocado oil (just mix a table spoon of each) and add 500 gr of chopped broccoli. Boil with a little less than half a litre of fresh chicken stock and blend. Then add half a can of full fat coconut milk and add some chopped bacon. I didn't add salt but you can... It really is delicious!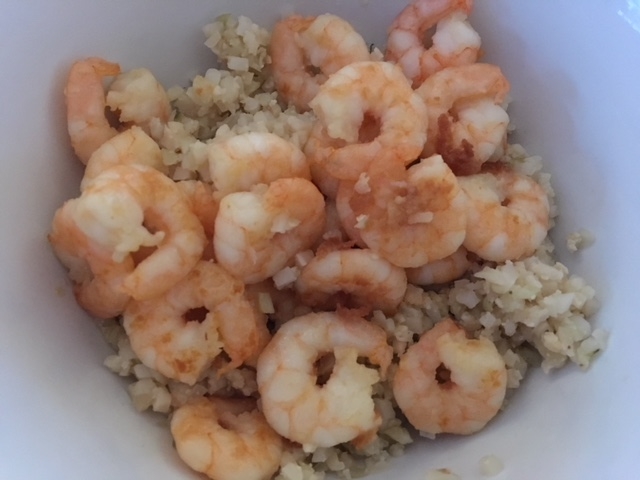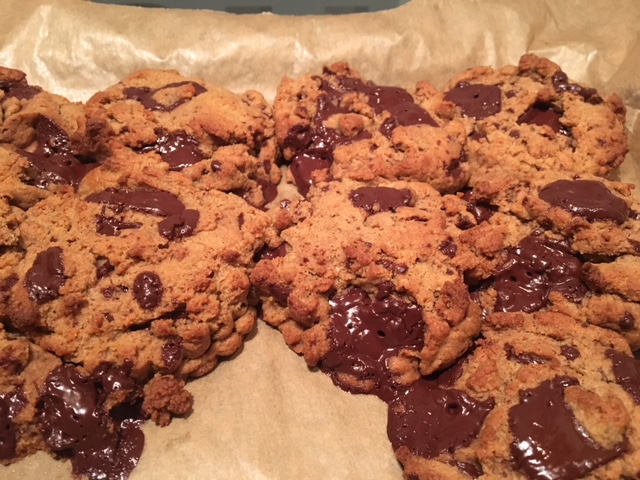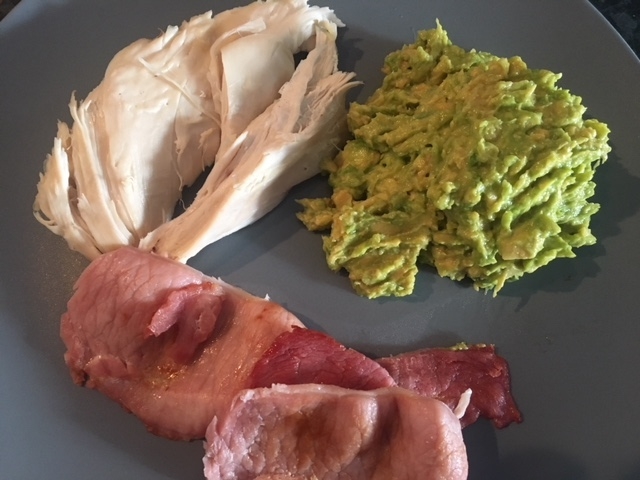 Saturday 17 February 2018 until now
Last week I introduced 3 foods; eggs, dark chocolate and almond flour. It hadn't given me any reactions and I've started to feel a bit stronger. I baked a flat bread with tapioca starch, coconut flour, egg, olive oil, rosemary and garlic. I dipped it in oil and amino vinegar (coconut).
This week I reintroduced white rice (as my Paleo book says that is better for me than brown) and made delicious chicken fake-teriyaki sauce with broccoli. It will help me get some more filling foods into my diet. The best thing I made however, was a copy of a deliouslyElla recipe : cocoa and almond energy balls (see recipe below). I have felt a bit better this week, but it still isn't going as well as I had hoped; I will keep adding and eliminating foods until I find my balance..
Cocoa and almond energy balls: I used the recipe Ella put online (click here) but substituted almonds by ground almond as I have trouble digesting nuts and I also added a little avocado oil. They taste delicious!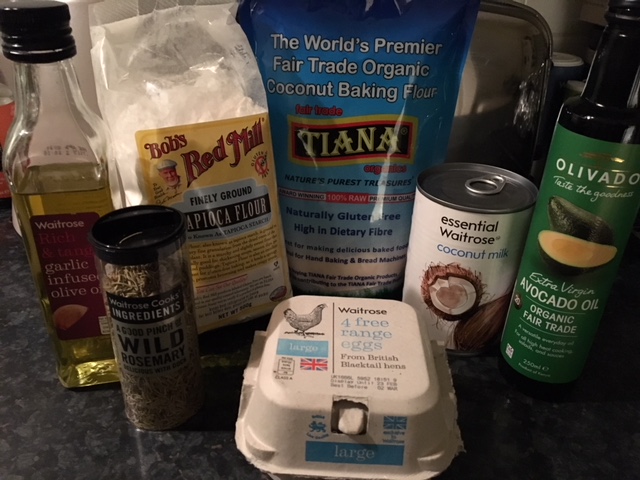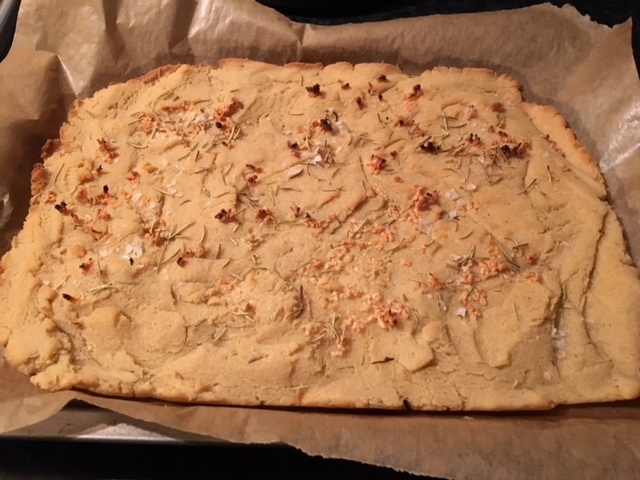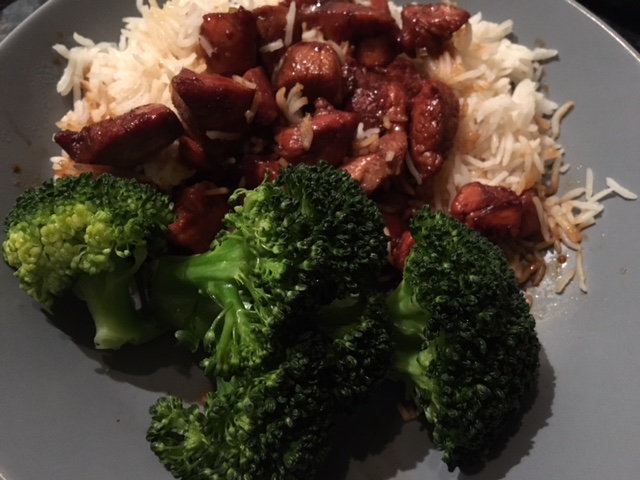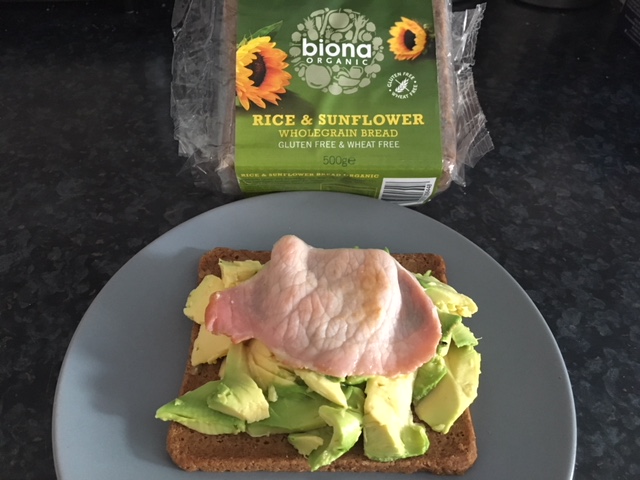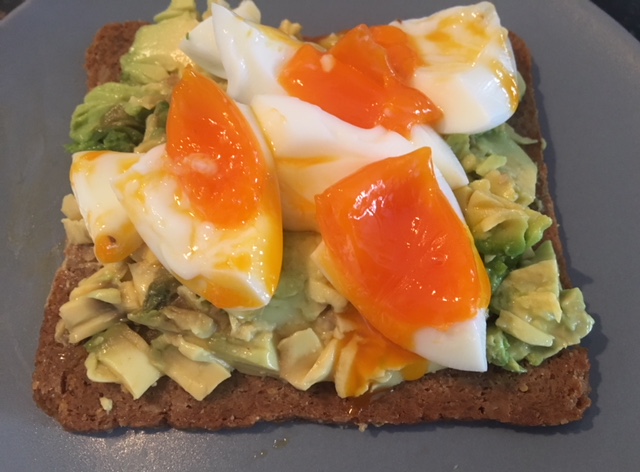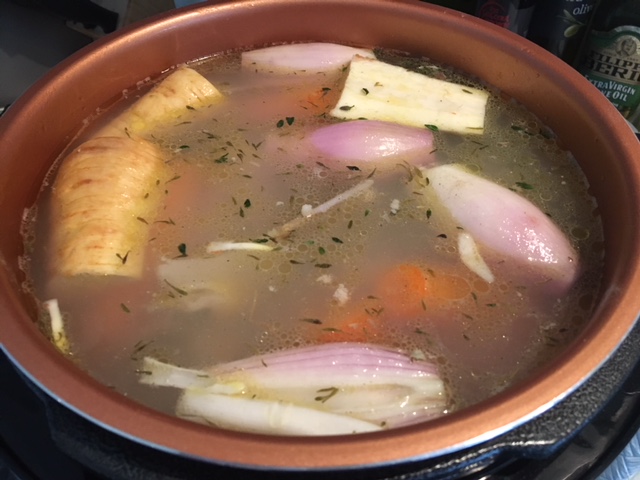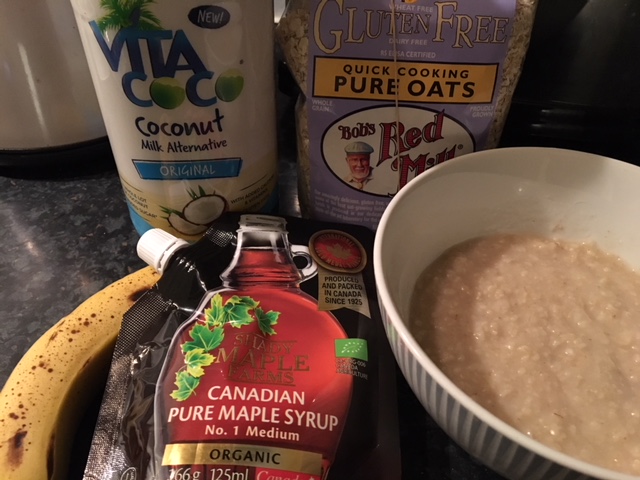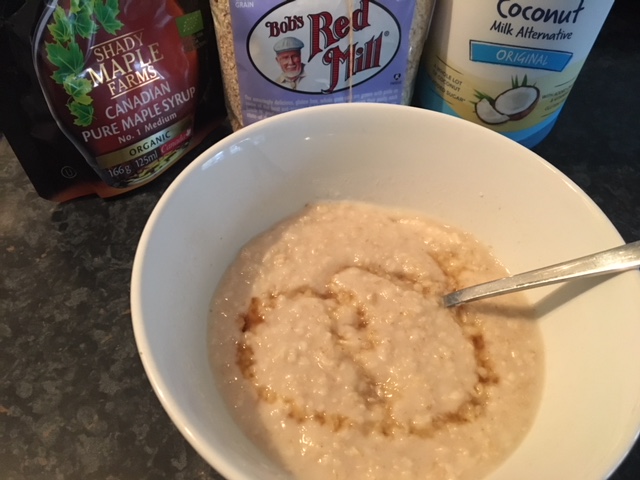 If you have any questions or comments, please let us know...